Well, the countdown is on for your family's vacation to Estes Park, Colorado!  You've read my other articles, and know where to eat in Estes Park, you know where to hike in Rocky Mountain National Park, and you know what to do in Estes Park…but do you know what to pack?  I've put together a list of things that we always bring with us to Estes Park, so you no longer have to wonder what to pack for your trip to Colorado.
This post contains affiliate links for you convenience.  Read my disclosure policy here.
1.Your whole family will need a few pairs of good hiking socks for your hikes in the park.  There's nothing worse than ending up with blisters on your first day of vacation.  Here are some of our family's favorite socks (click on photo for pricing):
2.  You'll be surprised at how many times you'll be happy you brought binoculars on your trip.  You'll use them during your evening drives in the park and around town to look for wildlife.  You'll use them on your hikes to watch the climbers on the side of Hallet's Peak.  You'll also use them to take in the distant scenery.  Here's a light-weight pair of binoculars that are perfect for your backpack:
3.  The temps are cool in the mornings (sometimes in the 30's) and comfortably cool in the evenings in Estes Park.  You need to wear long pants for those early morning hikes, and I recommend Kuhl brand hiking pants for their comfortable fit.  I recently received a pair of Trekr pants from Kuhl, and love the moisture wicking material which is quick dry and very light weight.  The Trekr pants can also be adjusted to capri length, and are all you need for a morning hike in the mountains and an afternoon hike down Estes Park's main street for some shopping.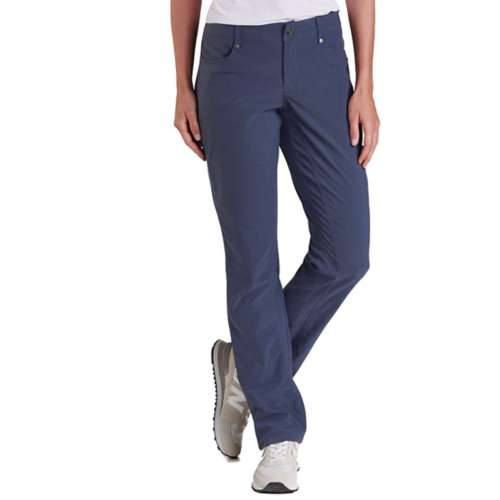 4.  The elevation in Estes Park is 7,522 feet above sea level, and the top of Trail Ridge Road is over 12,000 feet, so YOU NEED TO STAY HYDRATED to avoid altitude sickness.  Yes, your family will need to drink a lot of water and everyone will need a water bottle.  These Gatorade squeeze bottles are easy to hang onto, are made to use with Gatorade's Hydration pods, and cost less than $20:
5.  When you're in Estes Park, you'll notice people fly fishing in Rocky Mountain National Park and also right downtown Estes Park
.  Fly fishing is a fun activity that your family may want to try, and this is the perfect collapsible rod and flies to pack:
6.  Don't forget the Dramamine.  Some of those curvy mountain roads affect even the usually unaffected!  We just got these chewable Dramamine tablets, and they are so much easier to have the kids take while we're driving down the road.
7.  Does your family have their National Park passport books?  If not, they are all going to want one once they see they can record their park adventures and get a passport stamp at Rocky Mountain National Park.  This is something that your kids will love to read once they get "older".
8.  If your family is going to do some serious hiking in Rocky Mountain National Park, you may want to pack some collapsible walking sticks.  These are helpful on the hikes that have a lot of rocks and steps on the trail.   Some of those larger rocks get a light layer of sand that make them a little slippery, and these sticks will help you from falling.  I have to use my walking sticks on the hikes to Deer Mountain and Mills Lake for sure!  These are also useful for snowshoeing in the winter months.
9.  Do you know what it does almost every afternoon in Rocky Mountain National Park?  It rains!  Usually the showers don't last long, but those raindrops are cold!  You need to pack a raincoat if you are going to be out and about in the afternoons.  We love the colorful Columbia brand raincoats, and you can't beat the price of these girls raincoats!
10. You are going to need some snacks for your afternoon drive to the top of Trail Ridge Road, for the morning hikes in the park, and while you are walking around Lake Estes.  Snack packs of various nuts, m&m's, and dried fruits are going to please everyone! 
11.  Sometimes you don't want to carry multiple bottles of water in your backpack, so I recommend a water bottle with a filter.  We've always used LifeStraw filters while drinking water from mountain streams, and they have the perfect water bottle for your afternoon of fishing or weekend backpacking trip.
12.  You're closer to the sun at the higher elevations, so your family is going to need a lot of sunscreen.  Kids do better at applying sunscreen in stick form, and this is one of our favorites:
13. There are going to be days when your family is doing a lot of walking, and someone is bound to get a blister.  These band-aids heal existing blisters and help prevent them.  They have saved my heels more than once, and I always have some of these along on my travels.
So, this is my essential packing list for our Estes Park, Colorado trips
.  Bring these items and your family will be prepared for almost anything!
Here's a quick link to my other Estes Park, Colorado and Rocky Mountain National Park articles to help you have the best vacation ever!